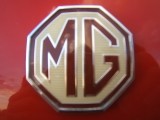 MGF Cars .ca
Parts Remanufacturing Project Suggestion Form
Use this form to tell us about parts that are currently not available that we should have remanufactured.
We cannot promise that every request will be acted upon but if we see repeated requests for a given part we will definitely pursue it.
Check your entry carefully before submitting.

For security reasons users cannot make changes once their entry has been added.

If you discover that you have made a mistake, email Brad and we will make the necessary corrections.


MG/Rover X-Part Locator: Check to see if anyone has the part you are looking for.

Return to: MGF Cars Home Page