Home Page
What's New?
C O L O U R
Wiring Diagrams

TR7, TR8, SD1
Parts Remanufacturing Projects
TR8 Fuel Injection Conversion
TR7 Rover V8 Conversion
Technical Tips Database
Wedgeparts
Fleet
Books & Links
Policies & Procedures
Triumph TR8 GM throttle body fuel injection (TBI) conversion




Triumph TR7/TR8 Multipoint (port) Fuel Injection


For updated information about TBI systems, and how to build a multipoint injection system for your wedge car see chapter thirteen of the following book:

How to Improve Triumph TR7 & TR7 V8


Wedgeparts would like to thank the following companies and individuals for their assistance with this project:

Custom EFI's (defunct)
If you are contemplating building a system yourself we strongly recommend
purchasing their DIY guide which contains a wealth of vital information.

North Tennessee Tool & Die Works
Wheeler, Tim & crew: you guys are metal magicians!

Tito, Donna & crew at Autozone of Clarksville

Jerry, Jose, Daphne & crew at Advance Auto Parts of Clarksville

Richard, Phillip & Fred at James Corlew Chevrolet, Clarksville

Jimmy at Scoggins Racing, Clarksville


System Specifications (tentative):
New components: fuel pump, filter & mountings / distributor pickup, ignition module, cap & rotor / coolant temp sensor / ignition coil / oxygen sensor / TPS
Used/Reconditioned components: wiring harness / ECM / TBI / MAP sensor / intake manifold




We are working on developing a system to enable conversion of a Range Rover intake setup as shown below to a MAP based system. Perhaps the greatest difficulty in building a retrofit GM port fuel injection system is the need to fabricate fuel rails and a throttle body. However, when purchasing used Range Rover engines for TR8 conversions, one quite often gets all those items as shown in the photo, thus all that (in theory) remains to be done is to add a MAP sensor (just needs a vacuum port) and an air cleaner! Even the stepper motor (IAC) appears identical to the GM version! Stay tuned for details!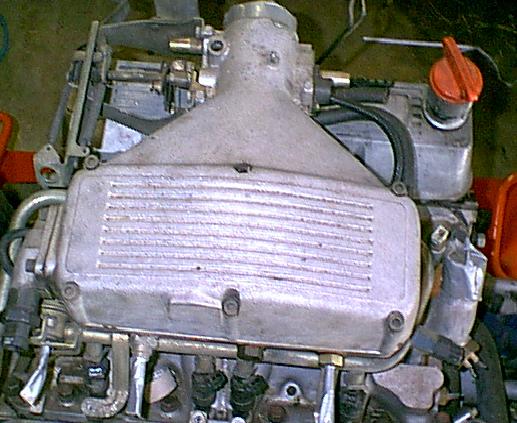 Disclaimer of Liability
Wedgeparts cannot be held responsible for any damage to property, health or life as a result of making any of the modifications described on these pages to your vehicle. Furthermore, it is your responsibility to ensure that any vehicle testing is carried out in a safe manner, i.e. keep your eyes on the road and not on the scantool! Preferably, vehicle testing should be carried out with a designated driver.

It is unlawful to modify the emissions controls on your vehicle. These modifications are intended to improve emissions and driveability, but it is ultimately your responsibilty to ensure that the changes you make do not violate the emissions laws in your area and to seek the approval of the appropriate authorities for any changes that you make. In practice, we are installing late Eighties technology on cars manufactured in the 1980 model year (MY) or earlier, thus these systems should easily meet or exceed the emission rules in force prior to the 1981 MY which are the standards our cars are obliged to comply with.